The Lancer was installed in front of California Baptist University's Event Center in Riverside, CA on Monday, April 24, 2017. Hoisted up on a crane, the 4,000 pound monument made its way to its new home without incident. Creating the 10 ft by 10 ft bronze sculpture spanned 20 months, with almost 10 of those months in my living room, as shown below. It was hard to part with our friend, but my wife insisted that it was best for everyone.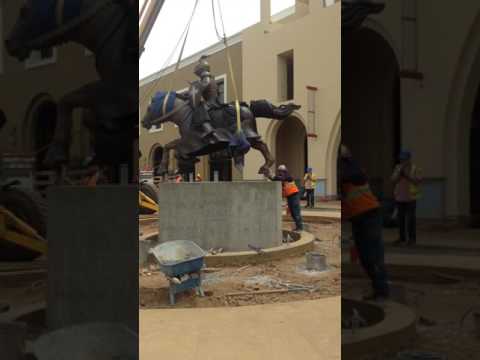 Doheny Beach Pedestrian Bridge
     Considered a true Renaissance man of the 21st Century, Lance Jost specializes in both public art and private commissions in a variety of media; creating unique and one of a kind art pieces to your specs or needs; murals, sculpture, figurative, abstract, mosaic, glass, and decorative architectural embellishments.
     Lance Jost's larger creations can be seen scattered around South Orange County, California. Whether helping to greet visitors and locals into the City of Dana Point as they pass under the Doheny Pedestrian Bridge located at the south end of town, or the elegant and vibrant panels of local sea life and surfers in the Mary Ellen Thomas Memorial Fountain located in Dana Point's La Plaza Park, or his Saddleback Church commission of the "15 Stations of the Cross," at their retreat, Rancho Capistrano in San Juan Capistrano, Jost's talents help to beautify our seaside and surrounding communities.
     Jost's claim to fame was acquiring a commission to paint a 100-foot long mural for Jimi Hendrix in his Electric Lady Recording Studios in NYC in 1970/71.
"Through Jimi's Eyes" – 03-28-15
CHAPTER 3
Visibly shaken, Lance had no idea what to expect when the limo pulled up in front of Electric Lady Studios. Sandwiched between the West Village and Washington Square, aside from the unusual brownstone brick-barrel vault that protruded from the front façade, 52 W. 8th Street had nothing flashy going for it except maybe its landlord. The studio was so new, not a lot of people knew that Hendrix owned it. From an artist's perspective, even the sign painted on the front window was less than impressive.
Quickly and professionally, the driver unloaded Lance's belongings. He rang the bell to the studio then sped off to scare the crap out of his next victim.
"Electric Lady Recording Studios," a young woman nasally announced over the intercom. "May I help you?" Easy guess she was a born and bred New Yorker.
Lance leaned in to the intercom a little intimidated. The whole situation didn't feel real. "Hi, my name is Lance Jost. I'm here to see Michael Jeffery?"
"Just one moment, please," she replied then quickly hung up.
Waiting for the door to open, Lance looked around at his surroundings then up at one of the windows on the second floor, and noticed a poster of Jimi pressed up against the glass.
It had only been a little more than a month since Jimi's unexpected death. While there were no words to describe the elation of getting the commission, he was now faced with the sobering task of carrying on Jimi's legacy of creativity without him being around. Lance was resolved to do something that was true to the his spirit.
Lance couldn't take his eyes off the poster. So dark and dire was the photo of the rock legend, almost a silhouette; its emptiness said it all. The people inside these walls, those who worked with Jimi and came to know him, were heartbroken.
A few minutes passed before the receptionist opened the door. "Follow me," the thin hip-looking young woman said snobbishly. Giving Lance the once-over, she did little to hide her disappointment. He was just a commoner, not one of the rock stars that were now just starting to record at Electric Lady.
Walking into the studio for the very first time that Fall day, Lance was in awe. Nothing could ever come close to describing the excitement that welled up inside of him. With each step he took he couldn't help but feel like a kid getting away with something, like he snuck in. He kept waiting to be yanked by the shirt collar and thrown out of the building by a couple of security guards.
Originally, Jimi and Michael Jeffery went in as partners in 1968 to open a nightclub, the Generation Club, in the same building. Located downstairs in the basement, it was built on top of the Minetta Creek that ran through the Village. Prior to that, from 1930 to 1967, the Village Barn Nightclub was owned by Meyer Horowitz and featured country acts.
John Storyk was a 23-year old architect who graduated from Princeton that same year, who met Hendrix and Michael Jeffrey at Cerebrum, a very small club that he designed in SoHo. Impressed with Storyk's talent and featured articles in both Life and Time Magazines, they hired him to design their club.
Open a short six months, the Generation Club was one of Jimi's favorite places to hang out. Meanwhile, the costs to record an album back at the end of the 1960's were astronomical, and Jimi was always looking for a better deal. Jim Marron, who was hired to oversee the remodeling of the club, suggested that they turn it into a private recording studio. That way Jimi could invite his friends over while he worked. With the club idea scratched, Storyk took a crash course in studio design and the rest is history.
The studio was sure to succeed technically with the hiring of key professionals like the Director of Engineering, Eddie Kramer, who wanted to make Jimi proud of the studio and the job he did. A small thin South African, Kramer got his start in engineering when he moved to England in 1961 and found work at Advision Sound Studios. Classically trained as a child on the piano, violin, and the cello, he worked with a long list of recording artists; the Kinks, the Rolling Stones, Hendrix, and even the Beatles. Moving to New York in 1968, he eventually went independent and established himself as one of the most important live music producers of the rock era when he recorded the Woodstock Festival.
Creating Jimi's recording studio didn't exactly go off without a hitch. Costs mounted, especially when heavy rains flooded the location during demolition. Finally, a year after the plans fell through on the Generation Club and a million dollars had been invested in their new venture, the doors to Electric Lady Recording Studios officially opened on August 26, 1970.
Passing through the studio, what flashed Lance out most of all was that it was so brand new. Aside from Hendrix and the staffers, he was one of the first persons to walk these halls.
To be continued…
"Through Jimi's Eyes" – 3/15/15
CHAPTER 2 (Cont.)
The heavy-set limo driver, decked out in a typical navy uniform and a blue-billed cap quickly stowed Lance's luggage in the trunk of the town car, then proceeded to escort him to Electric Lady Studios in Greenwich Village.
Passing through the Midtown Tunnel connecting Brooklyn to Manhattan, Lance cruised down the Avenue of the Americas, the rolled up windows of the limo, muffling the sounds of the city. Peering out as one skyscraper after another sped by, the rows of windows resembled waffles stacked on end.
Quietly cradled in the cocoon of the warm and cozy limousine, Lance couldn't help but think about the sequence of events that brought him to New York.
***
Beautiful, very tall, curvaceous, Sherrie Novak was the blonde "it girl" strategically shoved into a red bikini at surf contests in the 1960's. Every red-blooded surfer in Seal Beach had the hots for her. Wearing a white sash emblazoned with Miss Surf-O-Rama, which revealed more than a sneak peak of her God-given ample breasts, Sherrie played the part to the hilt. It was a hoot watching her flirt her way down the line of drooling, not to mention, horny young surfers as she freely dispensed trophies and cherry-stained kisses on their salt-crusted cheeks.
The first time Sherrie caught Lance's eye she was proudly posing on the steps of the girl's dorm at Long Beach State. Playing flamenco guitar, she belted out Malaguena Salerosa in a perfect Spanish accent. Keeping a constant lookout for a new fish to reel into her net, Sherrie was at her best in the limelight.
Unable to resist Sherrie's overpowering force and the sounds coming out of those lips—talk about voluptuous—Lance moved in quickly, but discretely. It didn't take him long to learn that she was outrageous and spontaneous and flamboyant in every way. He got off whenever people shed their inhibitions in public, a relief from his restrictive Baptist upbringing, and well, Sherrie never disappointed. He would stand back and watch her enter a room creating some crazy scene just to see how many heads she could get to snap around to catch her act. It was icing on the cake if the beautiful scene-stealer kept her audience locked into her shenanigans.
Soon pairing up at school dances, Lance and Sherrie grabbed any chance they could to attract attention. Making a bee-line for the middle of the crowd, pushing their classmates, along with the limits of restraint out and away on the dance floor, they played off of each other's gyrations. Sherrie's long arms flailed around in a variation of the swing, the surfer stomp, and whatever other new moves she came up with on the spot.
Lance hoped that by some miracle they would hook up. Unfortunately, Sherrie was off on her own trip most of the time and honestly, even if he had tried he couldn't have caught up.
What neither of them knew at that point was how much of a key player Miss Surf-O-Rama would be in putting him on a trajectory headed straight for Jimi Hendrix.
***
Suddenly, the limo jolted, hurling Lance sideways across the cushioned back seat. Grabbing for the arm rest, he clumsily popped his head up just in time to see the driver making a radically sharp right turn from the far left hand lane. Slammed against the door, the car careened across four lanes of traffic.
"Shit! I mean, what the heck?" Lance shouted, remembering the limits of profanity allowed a good Baptist boy. Scared stiff, he couldn't believe it when the driver abruptly jerked the car curbside at 52 W. 8th Street, causing a torrent of horns and yelling cabbies. He thought for sure he would die right in front of Electric Lady Studios and never quite make it inside. Even more frightening was that the limo driver never even flinched. All in a day's work, the driver calmly opened Lance's door and greeted him, "Welcome to New York City!"
"Through Jimi's Eyes" – 3/12/15
CHAPTER 2
Strutting through the airport terminal with Purple Haze playing in his head, Lance garnered quite a few double-takes from some very attractive women. It worked! He was doing just what he set out to do; make a splash in New York City.
As he got closer to the doors leading outside, however, Hendrix began to fade as his confidence waned. Through the glass up ahead, he watched skilled skycaps juggling suitcases while hailing taxis for tips. Suddenly wondering if he was going to fit in at Electric Lady Studio, Lance became even more nervous about whether he had the talent to tackle a mural for Jimi Hendrix. He prayed that his schooling and experience would sustain him throughout the challenge.
Pushing through the doors of the terminal, Lance was unprepared for the barrage of noises that smacked him in the face from every direction. Thrown off his game, horns honked, brakes screeched, and whistles blew; it was so much larger, louder, faster, and colder than he expected. It had to have been below 40 degrees outside.
Walking out of the airport with his suitcase, his art-nouveau sculpted lamp, and a lifetime of personal belongings crammed into a single cardboard box, Lance scanned the long row of limo drivers spread out along the curb waiting for their pickups. Feeling like a very small fish in a big pond, he stopped when he saw the driver holding up a sign that read, "Lance Jost." Looking upward at the sky, he silently thanked God that the recording studio didn't know his given name, "Clarence." Talk about destroying an image.
To be continued…
"Through Jimi's Eyes" – 3/11/15
A Blog for the Ultimate Hendrix Fan!
In 2011, I wrote a blog about how my husband, Lance, got the commission to paint a 100-foot long mural for Jimi Hendrix in his Electric Lady Recording Studio in NYC. It was a quick telling of his turn of events; not too descriptive.
Since then, Lance and I sat down and wrote the entire story from beginning to end, of which I will start posting as of today, March 11, 2015.
To accompany this blog, we call "Through Jimi's Eyes," Lance is starting a new series of paintings in the same style as the original Electric Lady Mural.
Each finished mini-mural will include 3 to 5 paintings that tell a story. With our new lady, "Lily," as the centerpiece, we are sure to capture the heart of the Ultimate Hendrix Fan.
As we tell Lance's story, in full detail this time, I will also be posting for the Ultimate Hendrix Fan, the progression of the mini-mural.
So, come along, we'd love it if you follow Lance along on his journey, "Through Jimi's Eyes."
THROUGH JIMI'S EYES
Painting the Electric Lady Mural
By Lance Jost & Donna Jost
CHAPTER 1
NOVEMBER 1970
Lance Jost emerged from the jet way at JFK, dressed to "go to the show." Waiting for all of the passengers to empty out, he wanted to make a statement and be taken seriously when he stepped into the terminal. He wanted a grand entrance.
Wearing his finest; blonde elk leather bell bottoms with sealskin inserts on the flare of the legs, his long bleached-out hair from years of surfing blended together beautifully with his squirrel fur-lined vest made by West Coast Gypsy. This was no place for a Hawaiian shirt and jeans. Completing his look was a reminder of his spiritual upbringing; a three by five inch ebony cross that hung from his neck.
Stopping as he was about to join the stream of travelers in the terminal, rushing to make their flights, Lance turned around to face the petite redheaded flight attendant that escorted him off the plane.
Cute as a button, Susie and Lance hit it off as soon as he boarded back in L.A. when he asked her to stow his large unwrapped fiberglass lamp sculpture. Not only was it something he might be able to sell in New York, it also allowed him to cram "unmentionables" into the hollow of the lamp pole—subterfuge for a small stash of pot and hash.
"It was so nice to meet you, Susie," Lance smiled warmly and gently squeezed her small hand.
"The pleasure was all mine, Lance, all mine," Susie replied in a very sultry tone.
As the pair parted ways, Lance kissed Susie sweetly on the cheek and promised to call her once he got settled.
Always confident in his ability to meet women, Lance wasn't quite sure if it was his elk skin leathers that bowled Susie over or the new ace in his pocket; he was in town to paint a mural in Jimi Hendrix' Electric Lady Recording Studio.
Gallery
Friends & Links
Subscribe by email